A Unique Magical Christmas Family Fantasy World Experience
Santa's Magical Experience 2023
2023 TICKETS RELEASE Saturday 1st JULY 2023 @ 7.00pm
WE DO NOT HAVE A CANCELLATION LIST - WATCH OUT FOR FAMILIES RE-SELLING ON SOCIAL MEDIA
Please take time to read the ENTRY time information when you CLICK on TICKET LINK TABS and the importance of arriving on time and knowing how to find us by using Google Maps / Sat Nav if unsure. Remember our entrance to the Experience and Our Shop is through a Wooden Log Cabin Front - if you don't see a log cabin, you are at the wrong place!! (see photo below)
If unsure take time to search on Google to avoid being lost or late, our business name is D-Signs + Displays Ltd, Coalisland Enterprise Centre, 51 Dungannon Road, Coalisland, Co Tyrone BT71 4HP. Tel: 028 8774 7844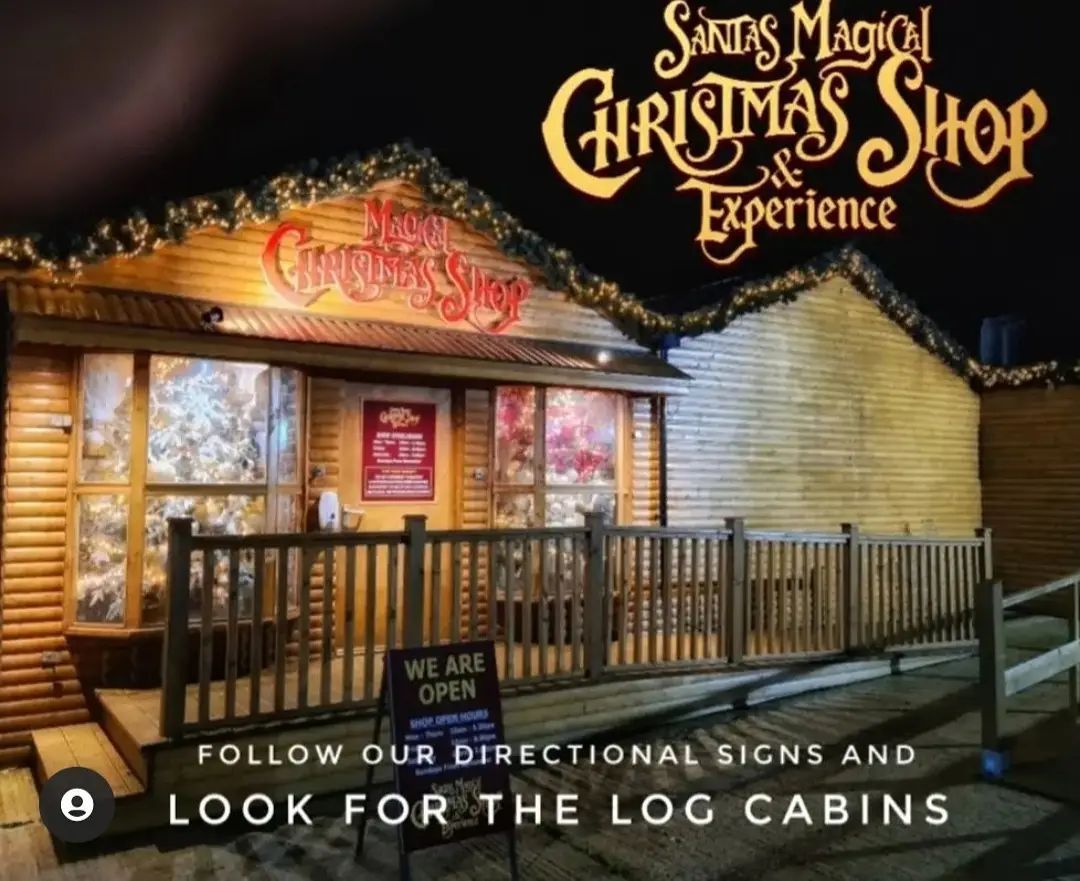 The health and safety of our visiting families and staff is always paramount, please be assured we will adhere to all social distancing restrictions in place at that time. In the event of restrictions being imposed preventing us to run the experience, we will be able to offer all customers a rescheduled date for the following year or a complete refund of the booking.
2023 Christmas Family Experience yet again has changes and improvements in store, retaining all the best features and special effects, amazing theatre show, train simulator, north pole station and more.
Please note that we will still allow families to take their own photos on their journey to Santa's Courtyard, however to enable us control the flow of people and prevent the delays caused in the past, when meeting with Santa all photos will be taken using our new camera system in place to allow free download after the event as well as being able to have copies printed on site.
As always created by the designers, sculptors, special effects and craftsmen of D-Signs + Displays Prop and Set Building Team.
What to expect:
(Please read special effects warning at the bottom of page)
Once your entry time comes available, the magical train conductor welcomes you and your family onto a state of the art train simulator which is visually stunning with 3D graphics and effects, you will experience a simulated ride on the train to the North Pole to meet Santa. Full surround sound, special movement effects.
You and your family will be treated to an enchanting walk through New North Pole Station and Platform, a Christmas Village and various festive live characters. You will be greeted by Santa's Elves before being treated to a unique theatrical performance with live actors. Experience special effects including, lighting, sound and snow. This is the one and only Family Christmas Attraction to visit this year.
On exiting the experience you can browse our amazing Log Cabin Christmas Shop, (open 6 days per week from late September and 7 days when the experience opens) with brand new luxury decorations all elegantly displayed, this year will again exceed the previous.
Choose from Trees, baubles, lights, tree trims and 100's of decorative Christmas ornaments as well as our new ranges of life size and nearly life size Santa's, snowmen, nutcrackers, toy soldiers and more.
As always Limited tickets available so book your family now into Ireland's most amazing Christmas Family Attraction.
Once released, simply click on Buy Tickets Now or Autism Friendly Tickets TAB from the menu, select a date entry time, select number of adults, then number of children over age of 1 on date of grotto visit (different price) complete all the usual details to buy using Paypal checkout which takes card (look out for the card link) print off your receipt or show on your smart phone to gain entry at the grotto.
The most talked about and only one of it's kind in all of Northern and Southern Ireland. Each year we have families travelling from all over Northern Ireland, Republic of Ireland, GB and Europe.
Every few steps you will find a free family photo opportunity so we highly recommend bringing your own camera, the elves will assist to take full family photos. At the end our the tour you will enter Santa's Grotto for a private meeting with Santa and Mrs Claus where every child receives a wonderful gift.
Where to find this amazing grotto?
Log Cabin @ Rear of Coalisland Enterprise Centre, 51 Dungannon Road, Coalisland, Co Tyrone BT71 4HP
(Northern Ireland) Close to Dungannon, Cookstown and 5 minutes from Junction 14 M1 Motorway.
(Belfast to Enniskillen)
Google Plus Code - G7QV+HQ Coalisland, Dungannon
SHOP OPENING (END SEPT / START OCT - TBC)
Monday - Thursday 10.00am to 5.30pm
Friday 10.00am - 8.00pm (late night)
Saturday 11.00am to 5.00pm
Sunday's (from November) - 1pm to 5pm
Shop Is Open During All Grotto Experience Times So Overrides The Above
SPECIAL EFFECTS WARNING
Warning
The Santa's Magical Grotto Experience contains various special theatrical effects.
Including sound, moving lights,strobe lighting, falling snow and motion effects in the train area.
The train simulator windows contain flashing images that can be dangerous to any viewers with photosensitive epilepsy.
If you feel that this may be unsuitable for your child or indeed attending adults please refrain from booking.
If symptoms of nausea, headaches or dizziness begin to occur, we recommend that you ask to exit the experience
by informing the closest staff member as soon as possible
IMPORTANT INFORMATION
In the event that some or all of your group are unable to attend on the chosen slot, we recommend and permit you to sell these to someone else and they can give your name on entry. You can post them on Santa's Magical Grotto & Christmas Shop Facebook page where they will sell quickly.
We are also no longer able to move to other slots. This is normal practice with ticketed events, eg concerts etc
PLEASE CHOOSE YOUR DATE AND TIME CAREFULLY.